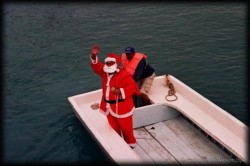 Have a travel lover in your life?  Wondering what to get them for Christmas given that plane tickets are a little out of the budget?  We have 10 great gift ideas that will turn you into every travel enthusiast's favorite elf.
1) Eagle Creek Travel Gear Pack-It 2 Sided Cube
: Packing Cubes – Oh packing cubes – where have you been all my life?  We can't believe we've just discovered these!  SUPER convenient for keeping your bag or suitcase organized with everything in its place.  The double sided ones work great for storing two different groups of clothes in the same cube – wet/dry, dirty/clean or shirts/socks, etc.  We love the bright colors that make it easy to tell his from hers or to sort family members' items.  These are super lightweight, so they won't be weighing down your bag, and durable, so you'll need to find something different for next year's gift.  And the one after.  And the one after…
2)TomTom VIA 1505TM 5-Inch Portable GPS Navigator with Lifetime Traffic & Maps
– Are you there yet?  You'll know every time now that you have GPS.  Some of us were born with a great sense of direction and a willingness to ask for help.  The rest of us need this device.  Turn by turn, it guides you through unfamiliar cities and gets you to your destination every time.  Traffic data helps make the drive as stress-free as possible.  SO much cheaper than marriage counseling – this is a must for every couple's road trips.
3)
Thermos 18-Ounce Stainless-Steel Hydration Bottle
: Go ahead, scale that mountain.  Hike that trail.  Heck, jog it, for all we care.  You'll be relaxing at the top/end with an ice cold drink thanks to your new Thermos water bottle.  We fill it with ice in the morning and the water is still cold the
following day!
  Even though it's been 85F/30C!  Take
that
Global Warming!  Our new favorite "toy"!  Scaling a glacier, instead?  Your hot chocolate will stay toasty and ready to drink.  Perfect for road trips!
4)  Have a friend or family member whose budget has grown too tight for travel?  No problem!  Everyone can afford armchair travel!  This beautiful coffee table book – The Travel Book
– is bound to inspire plenty of dreaming if not actual trips.  Beautiful oversized photos will capture the imagination of even reluctant travelers.
5) Men's Sierra Designs® Microlight™ Jacket
: Climate change means changing weather patterns.  Help the travel enthusiast in your life be prepared with this great rain jacket!  When the sun comes out, they can stuff it back into its own pocket, and then easily tuck it into a backpack for the day.  (Yes, it does come with a stuff sack, which is great, but we were also super excited to realize it folds into its own pocket after we left the stuff sack behind somewhere in New Zealand…Also comes in women's – Wendy's had one for years!)  Super lightweight, super durable and super useful
will all combine to make you a super popular elf!
6) A Subscription to
National Geographic Traveler
– Full of the beautiful photos that National Geographic is famous for, each new issue will have the travel fan in your life drooling over another destination.  Armchair travel at its best, or a great way to get inspired for the next trip – either way it's a gift they'll appreciate for sure.  (Wondered how we figured out where we're going next?  Now you know!)
7) An Idiot Abroad [Blu-ray]
– The award winning British show that combines travel and the hilarity of Ricky Gervais.  Relive favorite destinations from a different perspective and discover a side of famous landmarks you didn't know existed.  The India episode had us crying with laughter!
8) Original Scratch Map
– Keep track of your travels with this fun scratch off poster, or give it to a special travel lover in your life and let them have the whole world at their finger tips. 😉  Remove the top foil layer and reveal a full color map.   A fun twist on the traditional version.
9) Home World Map Shower Curtain
– Inspire a love for travel and encourage someone special to explore the world.  This way, they'll, ahem, start every morning with the whole world in front of them!
10)
World Map Wall Mural Paper
– The very best kind of wallpaper!  Plan your next trip or reminisce about past ones.  Either way, it's the perfect décor item for the travel lover in your life.  We've had one in our home for years.
As usual, our opinions are just that – our own opinions.  We don't get paid for them.  And products we own we paid for.  We do receive a small percentage for every item (whether we've reviewed it or not) that you purchase after clicking through one of these links.  We appreciate your support and we'd love to hear what you think!  What's on your wish/shopping list this holiday season?