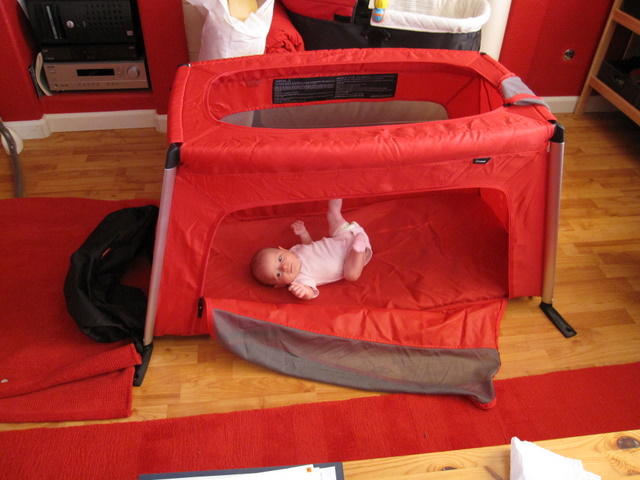 Travel is a huge part of our life.  Before we had children, we had traveled to over 50 countries together.  So, when we became parents, we knew we definitely wanted to continue to travel with kids as well.  Naturally, travel with kids is more challenging than travel without kids.  Especially when travel with kids is travel with baby.  Or travel with toddler.  Or travel with baby and toddler…
For younger children, bringing great baby travel toys and toddler travel toys can help.  For older children, these travel toys for kids will keep them entertained.  Of course, having a great travel stroller can help, and for travel with baby or travel with toddler, a great travel crib.  A great baby carrier and sunhat are just two of the handy items we've used to make travel with baby easy and fun.
But before we booked our first plane tickets, assembled the Phil & Ted's Travel Cot for the first time, or tucked our trusty UPPAbaby G-Lite stroller into its travel bag, there were several things we'd already done to help travel with baby go smoothly.  Here are some suggestions to help make travel with kids the best travel you've ever done!
1. Establish a bedtime routine you can follow anywhere. Like, at 30,000 feet.  Sure, we bought our kids mobiles for their cribs, too.  But if your toddler or baby needs that mobile to fall asleep, that's going to make that overnight flight possibly the longest one you've ever taken.  The good news is that there are plenty of things that do still work on a plane/train/boat/camel or wherever you may find yourself come bedtime.  Music or white noise can easily come along on your phone or mp3 player (and probably doesn't need to be loud enough to annoy fellow passengers – especially if they understand the alternative!)  Bedtime stories are easy to bring along thanks to Indestructibles – the perfect travel books for young kids.  Just think twice before you train Junior to fall asleep to stars projected on the ceiling, or something else that can't come with you when you travel.
2. Get your kids used to taking a shower.  Your baby, too! Because cheap budget-friendly hotels often don't have bathtubs.  Not to mention you won't want your child to use them, anyhow.  Bathtubs are less common in other parts of the world, too.  (Not to mention that taking a bath won't be part of your bedtime routine, right?  See #1).  Both our kids have taken showers since they were about two-months-old.  (Or old enough not to be rag-doll floppy).  It's easy, it's fast and it's a whole lot better to get them used to it at home than to try it for the first time in some foreign country.  After a long flight.  Where Junior didn't fall asleep because he didn't get his bath… 

3. Get your toddler/baby used to sleeping in their travel crib. It's SO much easier to deal with a skipped or lousy nap at home rather than on the road.  Even though the Phil and Ted's travel cot is wonderful, and we love it, nothing beats sleeping in your own bed, right?  So get Junior used to sleeping in it so that they are sleeping in their own bed when you hit the road.  Our daughter couldn't have cared less where she slept (she just didn't want to at all!), but our son took four days to get used to napping in the Phil & Ted's.  Four very long, nap-less days.  Thank goodness we got those out of the way at home and not on the road!  Don't forget to "practice" often.  A month is a very long time when you're a baby/toddler.
4. Expose your child to lots of different kinds of food. Unless spending your vacation trying to hunt down food your kid will actually eat sounds like fun, you'll want to make sure that Junior gets plenty of chances to explore different foods at home.  Remember, there are toddlers all over the world, so what seems unlikely to you is undoubtedly "toddler food" to someone else!
5. Routine, not schedule.  This one can be tricky, especially if your kids are in daycare or school and have to get up at a set time every morning.  Having been a teacher, Wendy knows full well just how hard it is to break your body of the habit if you eat at exactly the same time every day.  A little variety makes it SO much easier to adjust to new time zones!
Remember, practice makes practice!  Just like the more you travel on your own, the easier it gets – the more we travel with kids, the more confident we are about doing it.  Not to mention that we're going to feed them, change their diapers and deal with tears no matter what.  We might as well do it in an awesome new location!
Parents – do you travel with kids (or braver, travel with baby)?  What are your tips for "travel proofing" your child?  Have some of these travel ideas worked for you?  What have you done to help make travel with kids go smoothly?  Please share!  We're always looking for new ideas!